World Jewish Adventist Congress 2016

To download the material of the lectures presented during the congress:
click here.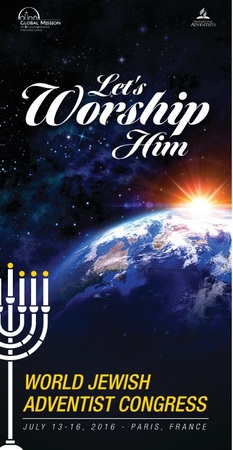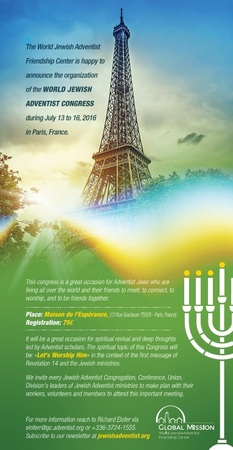 The World Jewish Adventist Congress was held in Paris from July 13 to 16, 2016.
This Congress was very important one. It was gathering people who are involved in Jewish ministry but also world Adventist leaders who are interested to look at this ministry and to discover what a Jewish Adventist worship is.

The theme of this Congress was "Let's Worship Him". Many lectures was presented during this world congress in connection with this theme.

Main lectures have been recorded and videos can temporarily be access at this link: http://livestream.com/accounts/12397264/events/5743444.
The lectures documentation can be downloaded using the button located inbetween the 2 images on top of this section.

All the timing are given according to Paris (France) timing and all the presentations are in English.

Below was the schedule for the congress, along with the names of the presenters:
July 13 at 7:00 PM — Opening evening and speech of Ted Wilson, President of the World Seventh-day Adventists.
July 14

9:00 AM — Devotional from Samuel Telemaque, Inter-American Division's Adventist Mission Director.
9:30 AM — Clifford Goldstein, General Conference's Editor of the quarterly Sabbath School. He will deliver a message on the first angel's message of Revelation 14:6-7.
2:15 PM — Yvan Milanov, lecturer at Newbold College, England. He will deliver a message: "Hebrew Principles of Worship"
July 15

9:00 AM — Devotional from Samuel Telemaque, Inter-American Division's Adventist Mission Director.
9:30 AM — Daniel Stojanovic, Vice-President of the Canadian Union of the Seventh-day Adventists for Administration. He will deliver a message on "First century Jewish Christians perspectives of worship"
7:30 PM Kabbalat Shabbat with a Drasha from Shalom David, Pastor in Israel.
July 16

8:50 AM — Lecture from Kwabena Donkor, Director Assistant of the General Conference's Biblical Research Institute, on "Creation Theology and Worship."
10:05 AM — A movie prepared by the Communication Department of the General Conference "The Childhood Of Yeshua"
11:00 AM — Worship Service led by Joseph du Mesgnil d'Engente and the drasha by Jacques Doukhan: "The Day of Atonement and the Three Angels Message."
6:00 PM — Concert "Singing in the Dark" by Rachel Hyman. A concert on the Holocaust or Shoah.